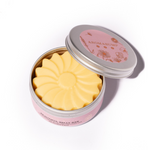 Stretch Marks in Pregnancy
The Beautiful Belly Bar:
AromaBump's Good Solid Approach to Stretchmarks
I first learned about the presence of potentially toxic ingredients in personal care products in and around 2002, and as you can imagine - I was horrified!  How could products be made and sold in good faith, when the manufacturer most definitely knew of their potential carcinogenic and hormone disrupting effects?  It felt even more shocking when I considered that pregnancy products often incorporated the same undesirable ingredients.
I had recently qualified as an aromatherapist from the Tisserand Institute in London at the time, and I knew that using my knowledge of plant oils and essential oils, I could create something that was safer and more beneficial for the skin - and the whole body in general.
As I worked with many pregnant clients as a reflexologist, I started creating aromatherapy blends for them that could be used as body moisturisers and bath oils too, helping to keep their skin supple and nourished.  These oil blends had the benefit of helping my clients to relax and sleep, and also to ease any aches and pains.
I continued to work with my pregnant clients and make up individual aromatherapy blends for them, and then in 2012 I went on to study the manufacture of natural skincare so as I could develop a wider range of body care products.  Still very much pregnancy focused, I wanted to support my clients through the ups and downs of pregnancy and I knew that stretch marks were often a real concern for women. 
I wanted to create something that was effective in supporting the stretching skin, that would nourish and hydrate it, that would smell amazing, and have calming, nurturing properties, and obviously be kind to mum and her baby.
I set to work, and after some trial and error, I introduced my clients to the Beautiful Belly Bar.
This solid moisturising bar, developed specifically to address the appearance of stretch marks, the irritation of dry, itchy skin, and also the need for kind, and safe ingredients became a popular option right from the start.
I chose to use beeswax, organic cocoa butter, organic shea butter, organic coconut oil, organic rosehip seed oil and safflower oil, as well as avocado butter and vitamin E to address the skin's growing needs when it is being stretched to the max.  These ingredients are 100% natural and highly effective at nourishing the skin, keeping it supple and protected.
As well as the plant oils and butters, I used a blend of sweet orange, lavender, frankincense, benzoin and neroli essential oils, which gives the Beautiful Belly Bar comforting, floral and almost vanilla tones.  These essential oils have aromatherapy benefits that include being able to heal the skin and reduce the appearance of scars; being able to brighten the mood as well as calm any moments of anxiety - Perfect for any pregnant woman as she moves through the 40+ weeks of pregnancy.
The Beautiful Belly Bar is a zero waste product.  It is a solid bar (it looks very much like a pretty bar of soap) that can be rubbed into the skin, anywhere on the body, not just the belly.  In actual fact, the Belly Bar is really wonderful at moisturising dry skin on your legs, and feet - leaving them feeling really soft and smooth.  Every last little bit can be used, and the aluminium tin that it comes in is widely recycled.
Another great benefit of the Beautiful Belly Bar is that it lasts for ages - plus, given that it is solid and not liquid, means that it is perfect for bringing with you when you travel - the tin is light, there are no spills, and no liquid restrictions!
Clients have come back to me with really wonderful feedback about the Beautiful Belly Bar, and many have incorporated its moisturising abilities and beautiful fragrance into their evening time routine before they head off to bed.
If you are reading this blog post and would like to try the Beautiful Belly Bar for yourself, then you can find it here
Use code BELLY10 for a 10% discount, with my compliments.
If you have any comments or feedback about the Beautiful Belly Bar, please feel free to get in touch on hello@aromabuff.com or leave a comment below.
Thank you.
Lisa