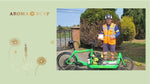 Pedal Power Delivery now available for AromaBuff's Drogheda Orders
Here at AromaBuff we are always keen to continue improving our green credentials.  We are also keen to support other small local businesses, and to always strive to improve our customers' overall experience.
Therefore, we were delighted to hear about another small business operating in Drogheda, that was super green, and with whom we could team up to offer something special to our customers.
This business is called Pedal Power Delivery and offers really prompt delivery of orders, by bike, within the town of Drogheda, and its close environs like Mornington and Bettystown. If we have your products ready for dispatch, you will now receive it a mere matter of hours after having placed your order! Imagine - same day, environmentally-friendly delivery, at no extra cost to you!
We are so excited to now be using Pedal Power Delivery's services for our Drogheda orders, and can't wait to be sending out more and more of our orders in this way!